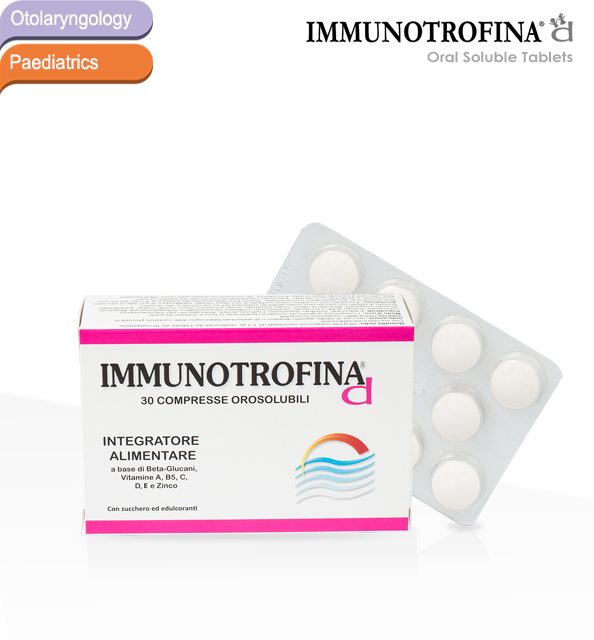 Indications
IMMUNOTROFINA D is a food supplement containing Beta-Glucans and Arginine, and is a source Vitamin A, B5, C, D, E, and Zinc.
                                                                                                           
These substances perform important physiological actions in the organism:
• Vitamins A, C, D and Zinc contribute to the normal function of the immune system.
• Vitamin B5 and Vitamin C contribute to normal energy-yielding metabolism and to reduce tiredness and fatigue;
• Vitamin E, Vitamin C and Zinc contribute to the protection of cells from oxidative stress;
• Yeast beta-glucans are micronutrients extracted from Saccharomyces cerevisiae;
The lack of these substances, or an increased need for them, may make it useful to take Immunotrofina.
Presentation:
30 oral soluble tablets.
This material is intended to provide basic information.
All medical advice, diagnosis and treatment should be obtained from your physician.
Therapeutic fields:

.Otolaryngology, Paediatrics.
#striped-custom-750112661 {background-color: #e8e8e8!important; border-color: transparent!important;}#striped-custom-750112661 span {color: #315f6f!important;}#striped-custom-750112661:hover {background-color: #ffffff!important; border-color: transparent!important;}#striped-custom-750112661 span:hover {color: #e51f74!important;}
To know more CONTACT US